Sail, Power, Multi hulls!
Full Service Brokers in La Paz, San Carlos, Mazatlan, Puerto Vallarta & Puerto Escondido
Operating since 2005 in México
Professional Help in every step
Your dream boat is here!
Contact Info
For more info visit us at:
Welcome to La Paz Yachts!
Ray Watson and Jeannette Sarrasin are the founding partners of Mazatlan Marine Center. After a successful career running their own business in Washington State they opened up what many think is the most reputable boat brokerage in Mexico. Mazatlan Marine Center is the largest brokerage network in Mexico having been in business since 1998.
In November 2007 we opened our branch office La Paz Yachts at Marina de la Paz. Manager Mike Rickman has been boating for 36 years and has extensive sales experience. Shelly Rothery Ward sold boats in San Diego for 14 years before going cruising in 2004. She joined our sales team in 2008. Cindy Espinoza, the office manager, is a bilingual graduate from the University of Guadalajara.
Our branch PV Yachts, under the management of Kim McDonald and Laura Hernandez, is located at Paradise Village Marina. Kim, a qualified surveyor and delivery captain, has years of boating experience. Stop by and say hello!
The broker in San Carlos Yachts is Don Brame, a seasoned boat owner who is pleased to be part of Mazmarine's larger organization. Brisa Cota, the Office Assistant is an extreme pleasure to do business with. Located in the Marina San Carlos Office Complex between Marina Cantina and Barracuda Bob's. Don and Brisa bring knowledgeable and friendly service to the boating community of San Carlos.
We can find the boat you are looking for anywhere in Mexico. Mexico's Pacific Coast has a large inventory of proven cruising sailboats, powerboats, sportfishers, motor yachts and multi-hulls.
MEXICO!
Home to some of the best cruising and fishing grounds in the world.
Our clients have come from all over the world. Like the staff in Mazatlan, La Paz, Puerto Vallarta, and San Carlos most of our clients are from the US or Canada with buyers now coming Europe, Australia, New Zealand and Asia.
We understand that coming to Mexico to see a boat represents a bigger commitment than walking down to your local marina to look around. We take pride in our approach to "tell it like it is.» We do our very best before you get here to paint an accurate picture of the vessel in its current condition. We will work diligently with you on finding the ideal vessel for your cruising needs and budget. We endeavor to help make your trip to the Pearl of the Pacific worthwhile!
When you come to visit us, we will be there to greet you. We've arranged corporate rates at hotels within easy walking distance to the marinas and will reserve your accommodations. A list of local surveyors will be provided for you to choose from. We are with you through your initial inspection, the sea trial, survey and haulout. We will walk you through the entire process. We are your liaison for everything. We can even recommend some "must see and do" places while you are visiting!
So now is the time. Your boat is waiting for you.
See you in paradise!
For more info visit us at: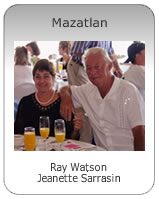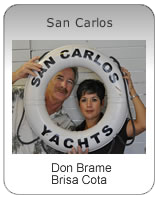 We can find the boat you're looking for anywhere in Mexico
– San Carlos
– La Paz
– Mazatlan
– Puerto Vallarta
We have it covered !!